I want to post this topic about few games i've really enjoyed or played not a long time ago...



It includes description and few pictures from this games.
Enjoy!
#1
R☆A☆G☆N☆A☆R☆O☆K
ONLINE
Is probably the most and old popular online game right now!! Its based on anime, quests, battles, pvp, adventures, love and friendship (:
Its really fun to play there and find friends to play & enjoy this game together!!!
Ragnarok Online is a massively multiplayer online role-playing game, where players can create several characters per account, but can only control one character at a time. Basic gameplay involves killing monsters wandering around the game world in order to gain experience and level up. This is referred to as PvE combat. Players can accept optional quests from non-player characters for special rewards and to flesh out the game's fantasy world. An extended series of quests have to be completed for most job advancements. There is no main narrative, and players are free to explore the game world in a non-linear manner.
Pictures of cool characters.
----> click Beginner's job classes!click <----
Major classes: Priest, Mage, Knight, Archer, Merchant, Novice, Ninja, Gunner, Taekwando. and MORE!
Older classes you can reach! Some cool lookin' (:
(There's a lot more!!! )
You can always change hairstyle, clothes color, or add some cute hat, gear, pet, anything you want in ragnarok! (:
SCREENSHOTS!
To know more about the game..
You know we love them

---> CLICK HERE TO VIEW THEM <---
~Artwork from this game~
------> CLICK HERE <--------
Also, people like to make some cosplays for their characters in game

I think thats awesome..
Google if you want to see more! lol
You can play this game for free! Just look for "Free Ragnarok Server" in google, and you'll see many game options. Many communities you can join, and find friends. xD
I'll post later some info about other games.
Hope you enjoyed it!

See ya!!!
bUT PPL LOOK SO SMALL...i LIKE RAGNAROCK 2 BETTER
I know.. this is like 2D! But still fun. Lol

Yeah they like chibi or something! So cute and tiny!
Yeah tiny as hell!!
I had to zoom each time lol
but this game is awesome...
Like living an anime life story xD
Awww i still wanna draw Chibi us!!

I drew one not long ago it's chibi me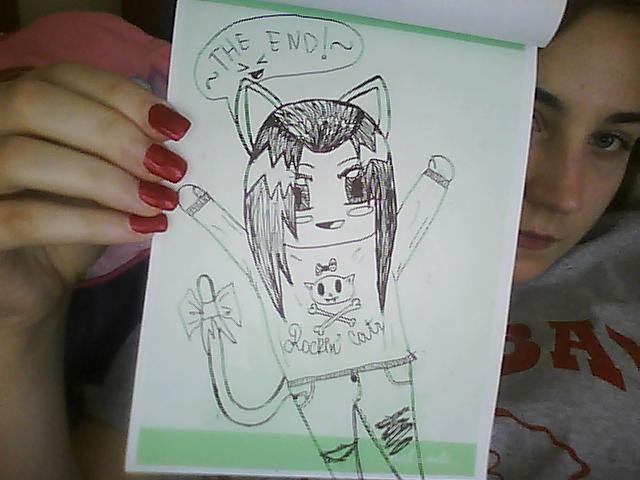 Awwwwwwwwwww!!
Its so cute!! I love how you draw chibis. Its adorable lol
Still wearing ebhs shirt?:p
yeah east bay gym shirt...
lol
nostalgic...who cuold tell that I'll miss school so much? ;_;

Similar topics
---
Permissions in this forum:
You
cannot
reply to topics in this forum